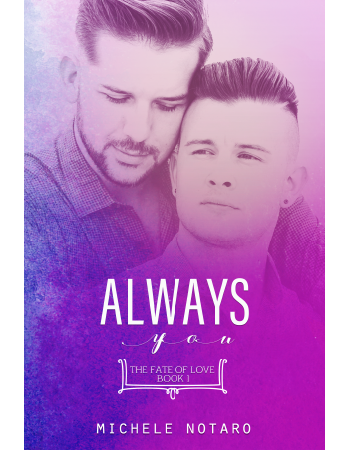 Always You
.
The Fate of Love Book 1
Finn~
Losing Aaron all those years ago nearly broke me. But he'd needed to follow his dreams, even if it meant we couldn't be together forever like we'd planned. I couldn't be the one to hold him back, no matter how much it hurt. So I'd set him free, and I'd tried to live my life to the fullest. Only there'd always been a huge piece of me missing.
Aaron~
It seemed that all of my relationships were set to fail from the beginning. I didn't know what was wrong with me, but I just couldn't put the effort in to make it work. Okay, so maybe I did know what was wrong with me… I'd been in love with Finn all my life, and even though I hadn't seen him for twelve years, my heart still remembered him.
When Finn and Aaron are brought together by a chance meeting, they can't help but be drawn to one another again. Even after they realize that they've both grown, becoming different people in their time spent apart, seeing each other brings out old feelings. They think about picking up where they left off, but maybe their love was only meant to be a sweet memory of the past. Or, just maybe, fate has brought them back together to rekindle their lost love.
***Always You is Book One of The Fate of Love series. The series will follow Finn and Aaron's journey, so it's recommended to read them in order. It's a contemporary romance between two men with explicit language and graphic sex intended for Adults Only.***
There is a trigger warning at the beginning of the book that could be a spoiler.