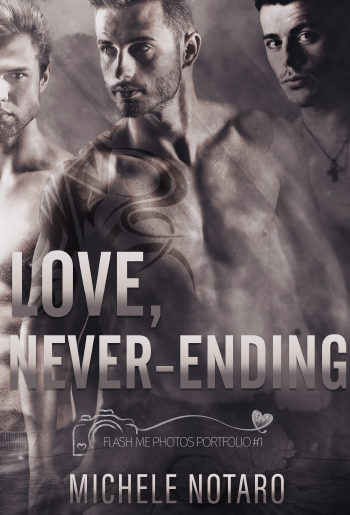 LOVE, NEVER-ENDING
.
Flash Me Photos Portfolio #1
Jax~
Years ago, I picked myself up and started a new life after having my heart broken. And now I love it, I love my life. But it still isn't enough. Something is missing. When I meet Symon for the first time, I know there's something special about him, and I can't help but wonder if he's my missing piece. But everything's confusing because my ex shows back up in my life. I want Symon more than anything, but a part of me still wants Tanner, too.
Symon~
When Jax first asks me to help him out with his ex, I'm not exactly thrilled, but after spending some time with him, I realize how much I like him. I don't expect him to feel the same way about me, but for some reason, he sticks around. And before I know it, Jax is a huge part of my life. But somehow, his ex—Tanner—winds up working with me, and even though I'm with Jax, I can't help my growing attraction and feelings for Tanner. How in the world can I care about two men at once?
Tanner~
Seeing Jax again after all this time is nothing short of amazing. Add in the fact that he's actually talking to me, and it's a flat-out miracle. I never expected to get him back in my life even if it's just as friends, but now that he is I want to keep him. I'm lucky to be building a life here again, and I'm grateful to meet new people, especially the sweet, kind, and adorable man, Symon. The strange thing is after spending so much time with Symon, I want to keep him just as much as Jax.
Will Jax ever be able to forgive Tanner and move on? Will Symon overcome his fears and explore what could be something amazing with the two men in his life? Will Tanner be able to forget the past and open himself up to the two men he wants to be with? Jax, Symon, and Tanner try to navigate their confusing feelings and attractions, but will all three men be able to come together as a unit and make it work? Or will someone end up with a broken heart?
***Love, Never-Ending is the first book in the Flash Me Photos series, but is a standalone novel. Each book will feature a different couple, but the couples will show up throughout the series. You may even recognize some characters from the Finding My Forever series, although it's not necessary to read that series first. This book contains explicit material and is intended for mature adults 18 and over.***